Total prefab solution speeds up construction of supportive housing in Calgary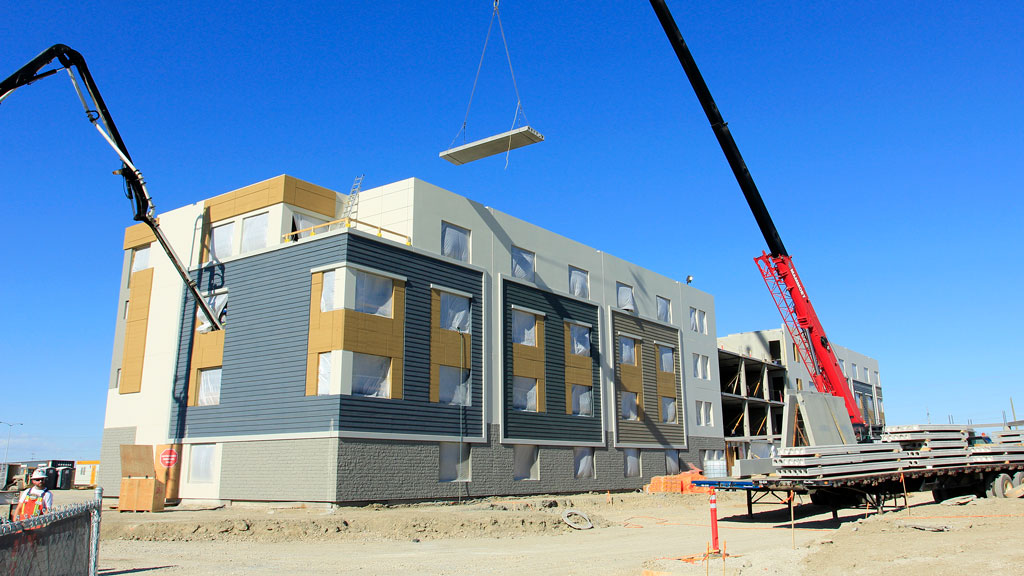 A total precast concrete construction solution enabled the St. Teresa Place Supportive Living Facility in Calgary, Alberta. to be completed in two years instead of three.
The project was discussed in a video presentation during a session titled Rapid Construction of Advanced Healthcare Facilities at the Buildings Show recently, which discussed how to build facilities faster, a need that became more evident during the pandemic. of COVID-19.
Construction is an example of Accelerated Building Construction (ABC).
The four story, 250 bed, 205,000 square foot continuing care facility is located in the Redstone neighborhood of Calgary. Construction was completed in 2017.
"For a fast and durable construction method, our solution starts with an insulated sandwich wall panel that includes a concrete outer skin with varying finishes, a continuous layer of insulation and the load-bearing structure," said Ignacio Cariaga, Senior Director of cement engineering services at LeHigh. Ciment Canada, formerly with Armtec, the main prefabricated contact on the project. "Having the structural mass of concrete inside the insulation improves the thermal storage properties of the wall. "
The parts were built off-site in a controlled environment with strict quality control.
"The beauty of the design is the repetitiveness of the construction," Cariaga said. "After being coordinated through a BIM model, it's like putting together a Lego set. We were able to construct a building envelope in no time, allowing contractors to do their jobs inside. While one wing was under construction, another crane was already starting up on the second wing.
The structure, which was supplied by Armtec, consists of architectural insulated wall panels, solid interior wall panels, prefabricated columns, stair stringers, steel delta beams and hollow core floor and roof slabs. , states the website of the Canadian Precast and Prestressed Concrete Institute (CPCI).
"We were able to build the building in four months compared to the conventional construction time of 16 months," Cariaga explained.
The way the project was designed is what allowed the building to be constructed faster, said Kevin Juby, partner at Manshield Construction.
"Our mechanical and electrical looms, which are the key to the process, were on the first floor rigging lines and were starting the first stages during construction of the third floor prefab," he said. "This system provided us with a closed structure in a controlled environment which allowed our teams maximum productivity during the winter months."
Christopher Babits, director at FWBA Architects, said the decision to build with precast concrete informed the design. The LEAN schematic design of the facility determined the most efficient space layout.
"Our approach was to turn limits into opportunities," he noted. "The surface treatments of the concrete and the creative use of color, texture and depth allowed a four-story design to harmonize with a two-story neighborhood. A hollow core floor system as well as innovative Deltabeams gave us the thinnest possible floor structure.
Armtec created architectural features and elements with concrete dies and stains, the CPCI website says, adding seven different shapes that were used to create 32 different sizes and styles of architectural panels and a penetrating concrete stain. been used to obtain several different colors on the building.
"As architects, we are always looking for durability and durability of performance," he added. "These locally made concrete panels can look like wood, stone or stucco, but have a dramatically longer expected life cycle. "
Inside, the space is designed with bright colors, natural light and warm finishes. The property includes six assisted living quarters each with 33 private suites, some for couples.
Patrick Dumelie, CEO of Covenant Health, Covenant Care and Covenant Living, said he was satisfied with the innovative approaches used in the project.
"We have been able to build a building that is not only cost effective and safe, it is noncombustible, but it is also very flexible to meet the needs of our residents, whoever they are, from very complex life to life. with support services, "said Dumelie.
The project team consisted of Covenant Care (owner); FWBA Architects (architect); Manshield Construction (general contractor); Armtec Precast (supplier of prefabricated products, Armtec member has been sold to a few other members of CPCI); and MPE Engineering Ltd. (engineering consultant).
Follow the author on Twitter @DCN_Angela.