Students take part in the link's first robotics competition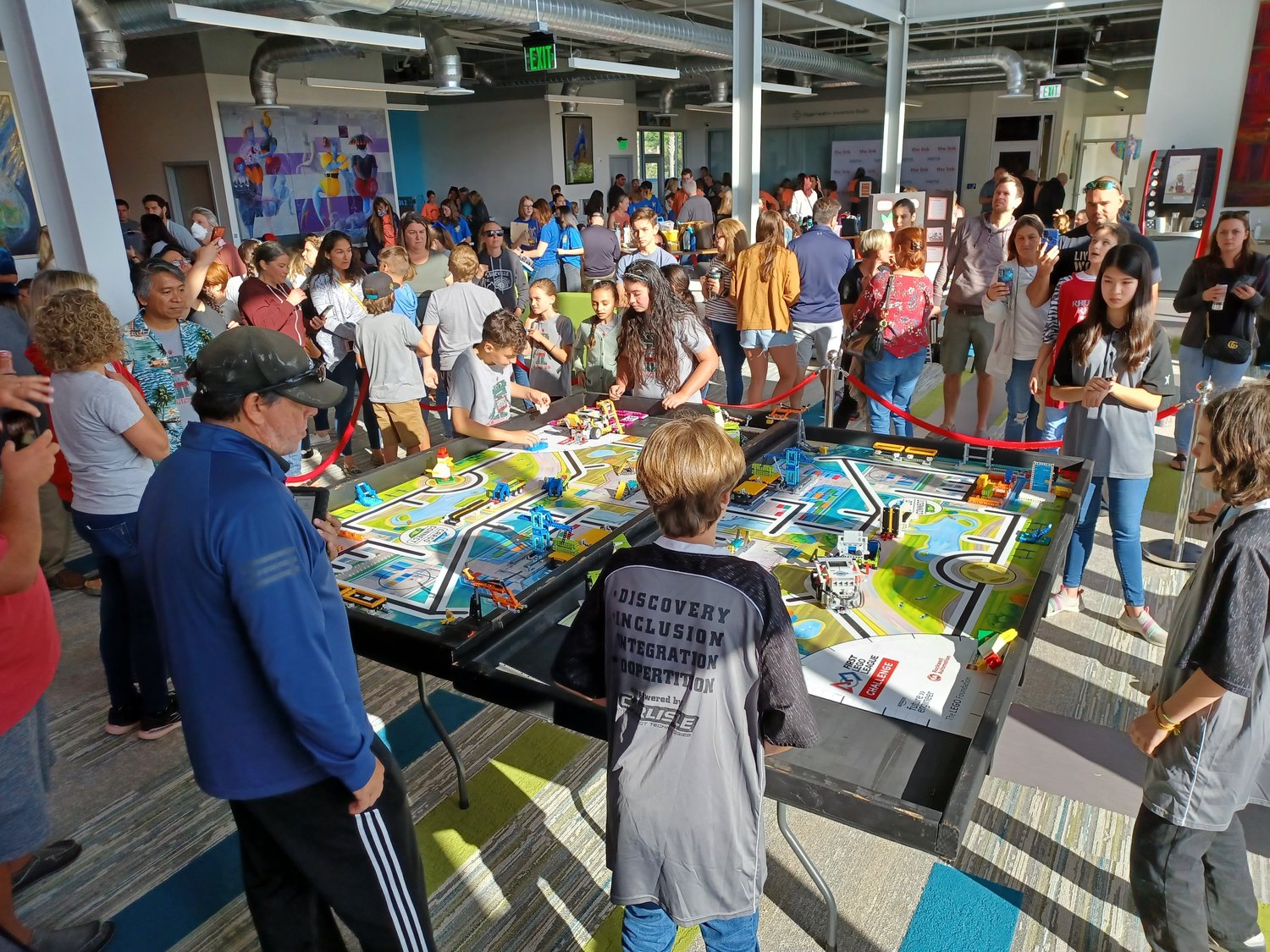 By Shaun Ryan
If there are any supply chain issues in the future, they can be resolved by former St. Johns County students.
As many as 100 of these students in grades four through eight presented their solutions for simulating package delivery challenges on Saturday, March 26 in a robotics competition on the link. The competition was modeled after the FIRST LEGO League competitions, although it is unofficial.
The theme for the Link's inaugural robotics competition, paralleling that of the FIRST LEGO League, was "Cargo Connect". Students working in teams programmed small robots to perform as many tasks as possible in two and a half minutes on mats bearing routes for the robots to follow.
The eight participating teams, representing robotics clubs from seven local schools, chose the challenges they wanted to complete from a pool of 16. For example, the robots might have had to pull a lever to retrieve cargo or the transport by truck or train to its destination. Careful coding was key. A mistake could cause a robot to miss its target.
The robots and kits needed to compete were sponsored by the Northeast Florida Regional STEM2 Hub in Jacksonville.
But the robots' performance on the tables was only part of the competition. Teams were also judged on innovation projects associated with the theme, as well as actual robot designs.
"They create a model and then they present in the judging session and explain how they came up with it and the iterations they went through to arrive at their final product," said Diane Lawson, applied technology specialist for the school district.
Teams were also judged on upholding core values, such as teamwork, discovery, inclusion, innovation, impact and fun.
"I think LEGO is great because they include this core value where everyone is included," Lawson said.
Kendall Orians said her son Callen, who is in sixth grade at Timberlin Creek Elementary School, was thrilled to compete.
"He gets to show what he's working on," Orians said. "A lot of times kids don't get a chance to express themselves outside of sports and activities like that."
Team coach Justin Thornton, a teacher at Gamble Rogers Middle School, made a similar point.
"With STEM and with the 'nerd stuff' kind of thing, there's no 'football game' every weekend," he said. "But it's that football game or that basketball game. It's their competition. That's why they practice.
Megan Fernandez, coach of the Crookshank Elementary School team, explained the many things students learn as they prepare for a competition like the Link.
"They learn to work as a team," she says. "They learn to program the robot. They learn to solve problems. They learn to work with people they don't always get along with.
As the judges gathered to select a winner, Link co-founder Raghu Misra presented a Railspire video showing how programmers were using artificial intelligence to manage rail yard operations.
"It's been such a big thing for all of us," Lawson said. "Next year will be even better!"
The link is located at 425 Town Plaza Ave., Ponte Vedra Beach.