Ride into Summer with Historic Manassas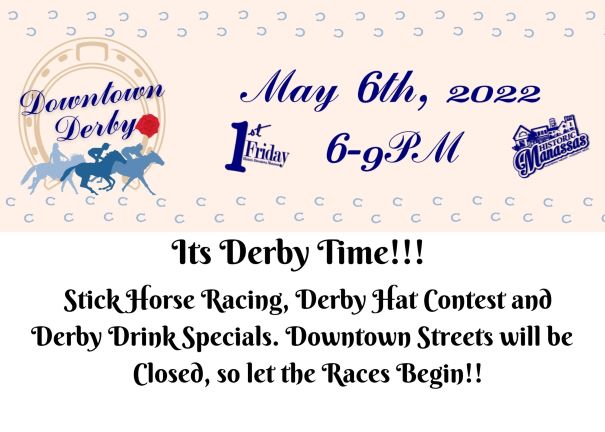 Like this article ? Support us by registering here. Your donation will help us continue to provide quality of life insights and enable local impact.
By Wendy Migdal
Sponsored by Historic Manassas, Inc.
Summer is coming and so are summer travel plans. It's time to think about destinations and how to get there. Historic Manassas has your destination covered – it's here. And they have a whole host of upcoming events that focus on different ways to get from A to B, from trains to automobiles to . . . stick horses?
May Events: Horses and Power
If you've never been to the Kentucky Derby, try a fun alternative on Friday, May 6: the Downtown Derby in Manassas. Participants, adults and children, will compete in breathtaking races down Center Street – on their stick horses. They will come out of their cardboard gates and are required to maintain the regulation trot throughout the ride, although, as event coordinator Melissa Williams sadly admits, the adults often break the rules and start running. However, the staff will encourage them to set a good example for the children.
Many people bring their own decorated and personally named stick horses, but Historic Manassas will supply them if you don't have one lying around the house. "It's quite interesting what people are coming up with. We had a mermaid for a year. And they get really creative with names," Williams says. There are also other ways to participate, including the parade and derby hat contest. The hat contest is heating up, apparently. Williams reports that the women come to the visitor center vowing to win this year.
Saturday, May 7 will be the Spring Antique Auto Show from 9:00 a.m. to 4:00 p.m. Local vintage car owners from the Automotive Club of America's Bull Run area will bring their automobiles to display on the streets and answer questions from passers-by. The automobiles on display will date from the early 1900s and will include several examples of convertibles. This event attracts a large and enthusiastic crowd.
June Events: Travel aboard the Iron Horse and the Cotton Club
The Manassas Heritage Railway Festival on June 4 promises to keep you entertained, whether you're a train buff or not. VRE is back this year, offering 45-minute train rides to Clifton and back for $10. On the train, kids (and adults too) will be entertained by an invasion of Storm Troopers from 501st Legion, who will also mingle with the crowd.
An extensive exhibit of model trains will be featured in the Harris Pavilion. Five organizations, including the Lego Corporation and four groups of model train enthusiasts, will set up their elaborate exhibits. As if that weren't enough, there will also be a puppet show, a magician, an inflatable slide and, of course, food and craft vendors.
Historic Manassas revamped the jazz festival into an evening event this year. On June 18, guests will be treated to a jazz evening in a 1930s Cotton Club atmosphere. "We noticed that people who came to the jazz festival were really just there to see Marcus Johnson and enjoy the music in a outdoor atmosphere. You could see it by looking at the crowd. They weren't there for the vendors and the food, and they weren't there for the drinks either. They really liked jazz.
The show will kick off with Velvet Storm, a local jazz band, and will feature a dueling piano segment. Comedian Doug Scott will host the event and will also entertain with a stand-up routine between acts. The headliner will be Marcus Johnson, a nationally known jazz musician and entrepreneur who lives in Maryland.
Guests who choose the VIP option will be seated at tables adorned with linen tablecloths and lamps in the pavilion, where they will be tasted and dined. Each table receives a bottle of FLO wine from Marcus Johnson, food and a goody bag. VIP tickets cost $90 per person. For a more low-key experience, guests can choose the general lawn option and bring their chairs and even their dogs. For $35, a drink ticket and a glass of wine are included. A cash bar, food vendors (including a picnic basket), and a cigar vendor are also available to all guests.
"It's going to almost have a date night feel, a club feel, moving it to the evening. It's starting to get dark and a bit cooler and people can just sit under the starry sky and listen to some jazz," says Williams.
Wendy is a freelance writer who has lived in the Northern and Central Virginia area since 2000. She has written extensively for The Free Lance-Star and also works for online education companies. Wendy enjoys traveling around the area to learn about parks, restaurants, attractions, and especially history.