Lewis-Palmer School District 38 Bearbotics Team Heads to Qualifying | The gallery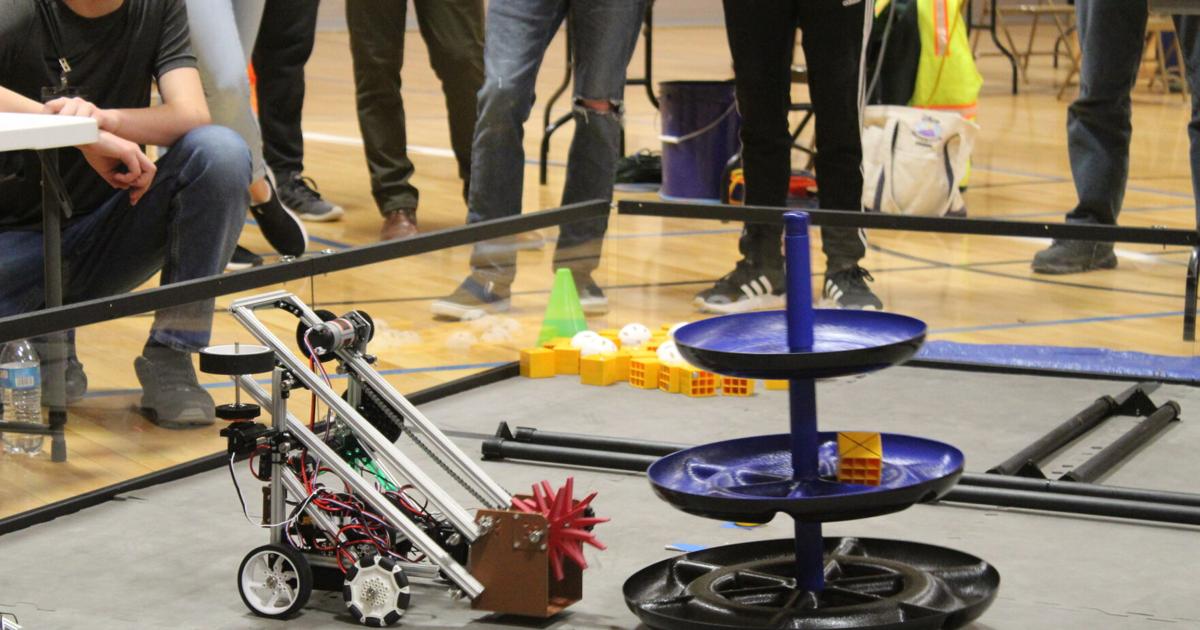 If all goes according to plan, Bearbotics, School District 38's high school robotics teams, will earn the right to call themselves champions this week.
The teams – 19541 Bearbotics Alpha, 19970 Bearbotics Beta and 20771 Bearbotics Gamma – will compete in the Southwest Metro Qualifier from 8 a.m. to 5 p.m., Saturday, February 5, at Chatfield High School in Littleton. The event combines the excitement of sport and the rigors of science and technology to resemble real-world engineering and problem-solving.
Teams will design a team brand and build and program robots to perform prescribed tasks against a group of competitors. More than 40 team members, 10 mentors and three coaches will participate in the qualifier, which is open to the public. If successful, Bearbotics will advance to the Colorado State Championship with a ranked set of winners from all Colorado qualifiers.
Bearbotics offers two robotics competition programs through FIRST (For Inspiration and Recognition of Science and Technology): FTC (FIRST Tech Challenge) and FRC (FIRST Robotics Challenge). FIRST operates globally and features game reveals for each program that kicks off that program's build season and competition events.
FTC is designed for ages 12-18 (grades 7-12) and is played on a 12-by-12-foot court. FRC was created for ages 14-18 (Grades 9-12) and is played on a basketball court. FIRST also offers FLLC (FIRST LEGO League Challenge) programs for students in grades 6-14 (grades 4-8) and is played on an 8-by-4-foot court.
This year's Game Reveal for the FTC's Freight Frenzy took place last September. Game elements, field layout, and rules were shared globally for teams to review and begin the engineering process. Students explored ideas and solutions for a match play strategy from which they designed and built their robot.
"Teams can choose which qualifiers they want to compete in based on location and time. They don't have to go to all of them and are limited to two in Colorado. Our teams wanted the last one and didn't want to play two this year. There will be 31 teams competing. The other qualifiers reached a maximum of 24 teams and 21, 12 and 24 teams competed," said FTC head coach Jeanette Breton.
"Launching an engineering challenge can be fun and provide opportunities for teams to strategize, set priorities, develop their engineering skills, and work with others."
FIRST focuses on a set of core values, courteous professionalism and cooperation. FIRST has a global reach of approximately 679,000+ students and more than 320,000 mentors, coaches, judges and volunteers, Breton said.
Bearbotics' FRC 4068 team has been competing for 11 years. This year, Bearbotics launched the FTC program to provide more hands-on opportunities for students to learn technology and engineering skills before joining the FRC 4068 team.
"We thought we were going to create an FTC team, but we got interest from 26 freshmen and sophomores, and we ended up with three teams this year: FTC 19541, 19970, and 20771. The members of our veteran team of sophomores, juniors and seniors continued to team FRC 4068 this year which currently has 19 students," said Breton.
According to Breton, the team goes through the engineering process identifying, designing, prototyping, testing and improving their robot until the first event, an FTC qualification.
"Teams can participate in a maximum of two qualifiers. In a qualifier, two robots as an alliance compete against two other robots as an alliance. These alliances are shuffled throughout the qualifying matches. A team can be your alliance partner in one match, but then compete with you in another match. It's great to see the buzz and enthusiasm from the students," said Breton.
These events include rewards that allow teams to individually advance to a state championship and then Worlds based primarily on their engineering portfolio. The Tri-Lakes Women's Club, Lockheed Martin, Boeing, and PITSCO Education provided grants to fund FTC team registrations and robotics kits.
Donations, such as folding chairs, a large roll of short carpet and a mattress to cushion the fall of a five- to seven-foot robot, and all skill-level volunteers are needed, Breton said.
Monumental Impact for Technology, Engineering and Entrepreneurship, a 501©(3) nonprofit organization serving youth in the Tri-Lakes area, will provide internships for students to continue building a social enterprise to to help raise funds and provide opportunities to explore technology and engineering interests.