Kidscreen »Archive» Supernow Launches Trio of Pride Month Shows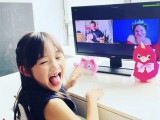 The Edtech Supernow platform, which hosts live edutainment videos, is rolling out three new, inclusion-focused specials for Pride Month in June to teach kids empathy.
To start things is Galavant graciously with Gracie Staynes, a live-actioner for ages 4-10 that sees the eponymous drag queen guide viewers through scavenging and craft activities, and teach kids the importance of being themselves.
The platform will also be deployed Over the Rainbow with Queen Dee: Rainbow Edition, a special mindfulness and exercise offering that encourages kids to get active while learning about different skin tones and the importance of embracing differences.
And finally, Color Wars: Pride Edition will pit children against each other in a series of entertainments challenges exploring the meaning of pride.
The three specials are 45 to 60 minutes long and will be filmed live on Zoom. Their hosts have been featured on other Supernow shows, but this is the first time they've performed in diversity-focused content, the Supernow co-founder said. Lyndsey wheeler.
Her and Rachel Breitenwischer launched Supernow in April 2020 to provide content that children could interact with from home during the pandemic. The platform joined forces with Wind Sun Sky, The Wiggles and WNET to deliver virtual camp experiences last summer. Its ongoing virtual course / camp offers live hosted videos designed to get kids moving, laughing, and doing arts and crafts activities.
The Supernow co-founders describe the subscription service (which costs $ 18 per month) as Peloton meets PBS, inviting kids to sing along with musicals like Hamilton and The Lion King, make crafts with LEGO bricks, and learn magic tricks they can do at home.
The platform has produced and broadcast live over 3,000 shows since its launch. On June 1, this library of content will be available for the first time on demand, with a mix of new pre-recorded videos that have a higher production quality than live broadcasts, says Breitenwischer.
Even when the pandemic is over and kids return to their usual activities, she expects there will still be a high demand for content that will engage them and make them feel seen. Supernow has new show concepts and characters in development, and plans to expand to reach a wider audience with its unique brand of interactive content.
"Screen time doesn't disappear," says Breitenwischer. "We're removing passive viewing options and giving kids a healthier choice that gets them active while giving them access to exciting instructors. We are only scratching the surface of what we can do. "