Hundreds of people gather to remember Orillia's selfless volunteer (5 photos)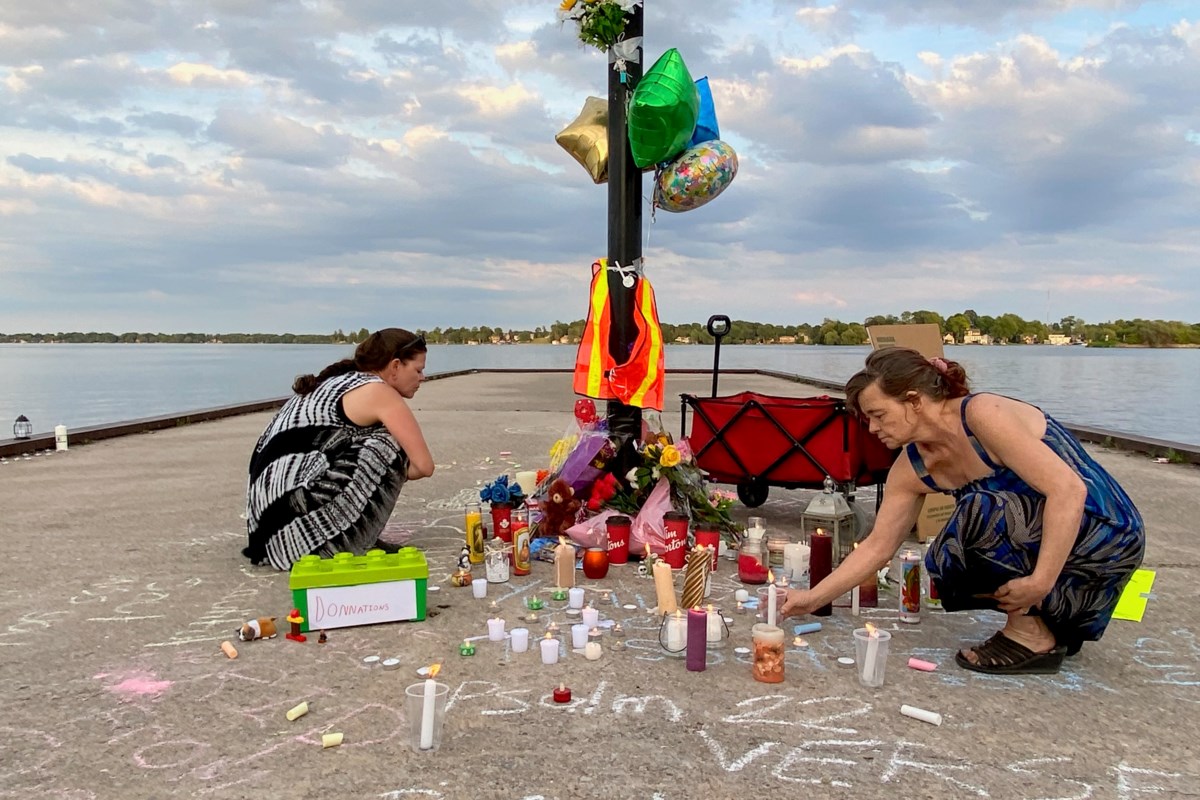 As hundreds showed up for a hastily organized vigil in honor of Chris Bellchambers on Sunday, many expressed shock at the turnout.
James (JD) McRae was not one of them.
"Honestly, I'm not even the slightest bit surprised," said McRae, Bellchambers' cousin. "He touched a lot of people.
Bellchambers, 42, died on Saturday after being removed from Lake Couchiching, near the government wharf at Couchiching Beach Park.
Word spread quickly, with tributes pouring in from all corners of the community.
It showed how much Bellchambers was valued, how much he was valued and how much he contributed to Orillia.
If there was an event in the community, chances are Bellchambers will be there to help. He was a long-time volunteer – a passion that benefited a variety of popular events including the Mariposa Folk Festival, Orillia Waterfront Festival, Orillia Winter Carnival, Santa Claus Parade, Canada Day celebrations . The list goes on.
"It was better than being bored," McRae said of why his cousin had volunteered. "If he helps someone, that's all that matters. It is sufficient payment for him.
It was obvious to Doug Bunker on several occasions.
"He was really excited. He was working hard. That's what I remember him from, "said Bunker, who hosts many events on behalf of the Orillia District Chamber of Commerce. "He would ask me about the Santa Claus parade in May and the pole vault festival in September.
Bellchambers took his volunteer roles seriously, treating them like paid jobs.
At a waterfront event, Bunker recalls, Bellchambers was working on the main gate.
"The president of the chamber introduced himself and said, 'You don't know who I am?' and Chris said, 'I don't care who you are. Where are your papers to enter? ' He remembers, laughing. "He was the watchdog. "
It wasn't enough for Bellchambers to show up and get to work. He strived to interest others in giving back to the community.
"He would bring his friends and basically train them to be volunteers. He encouraged it and told them it was very important, "Bunker said.
This commitment was also displayed every year at the Mariposa Folk Festival.
"No job was too big or too small for Chris," said Pam Carter, festival president and president of the Mariposa Folk Foundation. "There were times I had to say, 'Look, Chris, you have to go to lunch. You have to sit down.
She described him as an "informal leader".
"He wasn't a team leader, but people took inspiration from him. It was difficult to sit still if he was working. He motivated other volunteers, "Carter said. "Chris was part of the folk festival family. He will be absolutely missed.
Bellchambers received the Order of Orillia in 2013 in recognition of his volunteer efforts, and the city honors him again after his death. The flags were half-masted at Orillia Town Center, Orillia Opera House, Orillia Fire Stations 1 and 2, and Orillia Recreation Center.
"He was a great ambassador. He just had a wonderful attitude, "said Mayor Steve Clarke. "Her heart was the size of her body. He was kind and generous and had a good sense of humor.
The Order of Orillia was a fitting honor for Bellchambers, he added.
"The Order of Orillia identifies people who truly give to community, people who embody the spirit of community, and Chris did it in spades," he said. "He was just such a bright light."
Kara Black feels the same for her friend.
"Chris has always been funny. If either of us had a bad day, he was there to cheer us up and make us laugh," she said. "It was a shock that he passed away. It freaked me out. "
Bellchambers was hard to miss in town. He could usually be found in a reflective vest and, if he saw people he knew approaching, he called their names with a big smile and an excited wave.
A makeshift memorial on the government dock featured items associated with Bellchambers, including a reflective vest, Lego and Tim Hortons mugs.
Friends have also placed reflective vests on poles along Mississaga Street.
A GoFundMe campaign to help cover funeral costs has been created by McRae. It can be found here. Any additional money raised beyond funeral expenses will be divided between Bellchambers' two preferred organizations: the Sharing Place Food Center and the Lighthouse Refuge.
Cash donations are accepted at Ironside E Motors on Mississaga Street.