Grand Strand sparkles with tree lights | Visit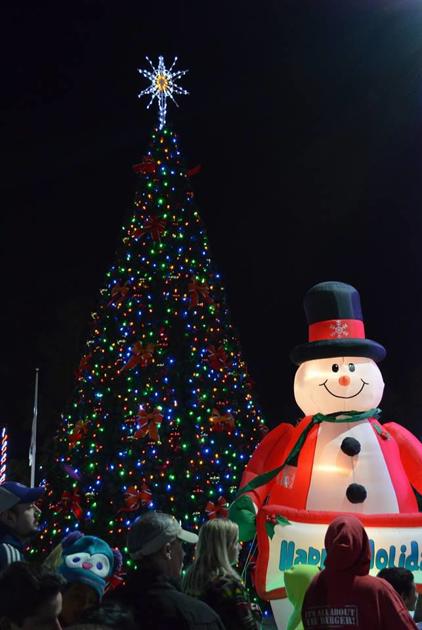 Christmas is fast approaching and the Grand Strand is gearing up for the holidays with a handful of area tree-lighting ceremonies.
Here are some other ceremonies and celebrations you can enjoy:
City of Conway
Celebrate the holiday season with the illumination of the Conway Town Christmas tree and the arrival of Santa Claus. The ceremony will take place at Conway Town Hall on Thursday, December 5 at 6 p.m.
After the trees are lit, visitors can enjoy candlelight shopping in the city and visit Santa Claus at Blackwater Market (1019 4th Ave.) from 6:30 p.m. to 8 p.m.
Every Thursday night in December, Conway will host the Rivertown Christmas celebration, with entertainment, hot chocolate and cookies, live windows, carriage rides and more fun for the whole family. All activities are free thanks to the generous support of the sponsors.
Visit conwayalive.com for more information.
Town of Myrtle Beach
The official City of Myrtle Beach Tree Lighting Ceremony will take place from 5 p.m. to 7 p.m. on Thursday, December 12 at the Myrtle Beach Convention Center, 2101 North Oak St.
The celebration will take place in the courtyard of the convention center. Dancers from the Coastal Youth Ballet Theater will perform. Enjoy cookies and hot chocolate, and don't forget to have your picture taken with Santa! Children can also have fun in a bouncy house, thanks to Fun Warehouse.
For more information visit myrtlebeachareachamber.com.
North Myrtle Beach
The North Myrtle Beach Christmas Tree will be lit on Tuesday, December 3 at 6 p.m. at McLean Park (93 Oak Drive in North Myrtle Beach).
The ceremony will include entertainment, children's activities and refreshments. Once the tree is lit, the children are invited to visit Santa Claus.
It's a free event and a great way to start the holiday season! For more information visit parcs.nmb.us.
Surf Beach
Surfside Beach Town Christmas Tree Lighting will take place at Town Hall on Thursday, December 5 from 6 to 8 p.m.
Call 843-650-9548 or visit surfsidebeach.org for more information.
Loris
The Loris Christmas celebration will take place on Friday, December 6, starting with shows at 4 p.m.
Santa and Mrs. Claus will arrive at 5 p.m. and the tree lighting ceremony will begin at 6 p.m.
After the Christmas tree is lit, the Christmas parade begins at 7 p.m.
During the Christmas celebration, visitors can shop at local merchants with extended opening hours.
For more information, visit the Loris Chamber of Commerce on Facebook.
Small river
The annual CB Berry Community Center tree lighting will take place on Tuesday, December 3 at 6 p.m. at Vereen Memorial Gardens (2250 Hwy 179 in Little River). Please join in a celebration of the holiday season with music, special guests and light refreshments by tree lighting. It's a free event for the whole family.