Brookgreen Nights of a Thousand Candles Event in its 20th Year | Visit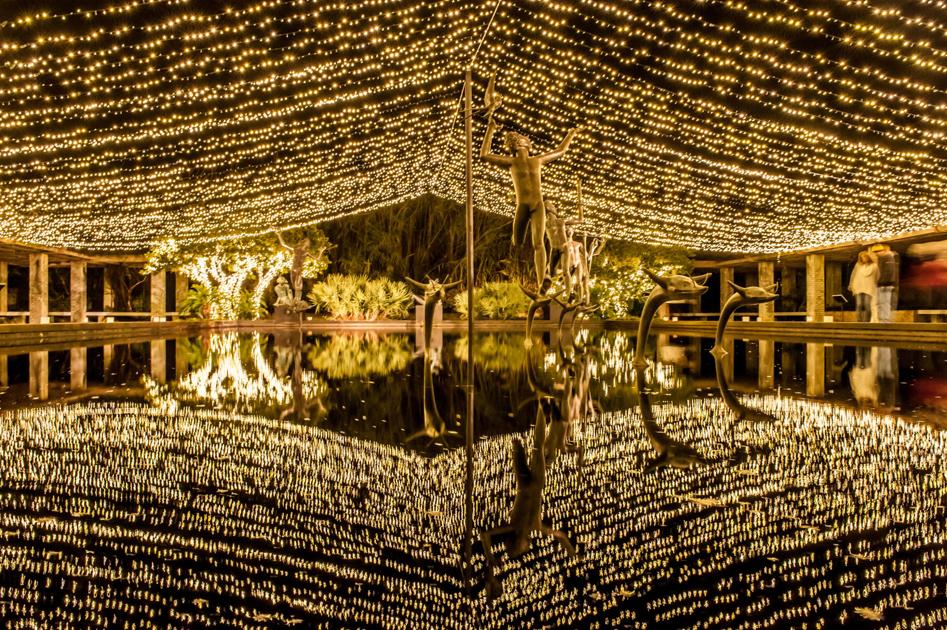 The numbers tell the story of Brookgreen Gardens's Nights of a Thousand Candles, which is in its 20th year.
Over 2,400 candles are lit every night. Almost 30,000 candles are used during the event. There are 350 pounds of cranberries in Brown Sculpture Court. Over five miles of extension cords are used.
Twelve staff members work full time at the Nights of a Thousand Candles from September to February, and each night of the event, between 130 and 150 staff and volunteers work at the Nuits des mille bougies.
The 80-foot Brookgreen tree is taller than the Rockefeller Center Christmas tree in New York City.
The first Thousand Candles Nights, two evenings in 1999, were called Luminaria Celebration and attracted just over 500 people. Last year, nearly 54,000 guests attended.
There are marriage proposals every year during the event, and marketing director Lauren Joseph said at an event last year there were 25.
This year, the event will take place from Thursday December 5 to Sunday December 8; Thursday December 12 – Sunday December 15; and Thursday December 19 – Saturday December 21 from 3 p.m. to 10 p.m.
Tickets, non-refundable, must be purchased online at www.brookgreen.org before the day of your participation.
In inclement weather, tickets can be exchanged for another night, depending on availability, by calling 1-844-271-3410. The deadline for requesting an exchange is 3 p.m. the day before the ticket date.
The cost for adult members is $ 20 and child members $ 12. Non-members cost $ 25 and $ 15.
"We have a great relationship with Inlet Affairs and they bring their country food and seafood which is served cafeteria style," said Joseph.
Entertainment will include Raglan Road, Palmetto Bronze, Bill Oberst, Jr., Ron and Natalie Daise, Tru Sol Band, and more. Check the website for dates and times of performances, as entertainment is subject to change.
There is a preview benefit on November 30 for Nights of a Thousand Candles that includes hearty appetizers, drinks and entertainment. This special event on the Saturday after Thanksgiving costs $ 100 a ticket (available online).
New this year is the three-night extension for Light Up the New Year for three nights on December 27, 28 and 31 from 6 p.m. to 9 p.m.
Light Up the New Year will include the glamor and romance of Nights of A Thousand Candles, "but on a smaller scale," Joseph said.
The Nights of a Thousand Candles has been a favorite event because "the beauty of Brookgreen and the art of the night … is simply magical".