Beijing will have the Legoland theme park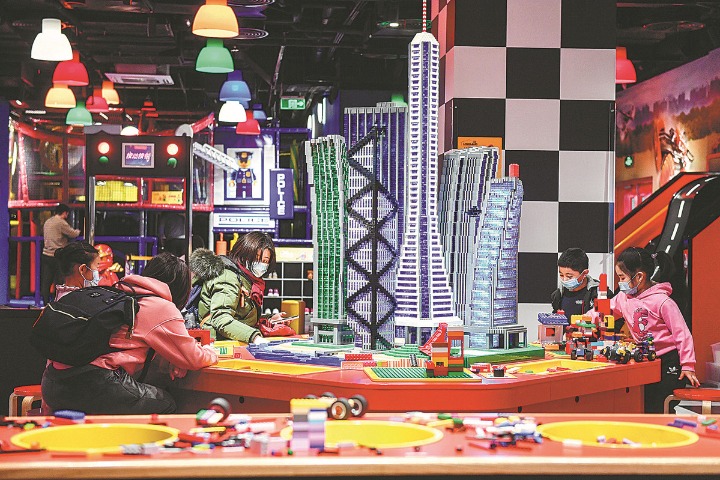 By WANG YING in Shanghai and WANG ZHUOQIONG in Beijing | China Daily | Updated: 2022-02-19 08:40
A Legoland theme park will open in Beijing's Fangshan district as part of China's national capital's plan to modernize its suburban industrial layout.
In September 2021, Beijing became the headquarters of Universal Beijing Resort.
The future Legoland theme park is among nine new priority culture and tourism projects for this year, according to a notice posted on the website of the Beijing Municipal Development and Reform Commission.
The joint venture project will be located in Changyang City of Fangshan District. A UK-based urban development subsidiary of Orient Group and Merlin Entertainments will own the project, the notice said.
To span 304,000 square meters, the Beijing Legoland theme park would include the Legoland complex, a themed hotel, a shopping street, a parking lot and more, according to a report by Beijing News.
According to John Jakobsen, Group COO of Legoland Resorts at Merlin Entertainments, there are currently three Legoland Resorts under construction in China, and Merlin Entertainments is exploring more opportunities for more Legoland projects.
Speculation has been rife about the theme park since 2015. Many have suggested that the Legoland theme park could be located in Qinglonghu Town of Fangshan District.
Theme park industry experts said the new facility, as soon as it starts operating, will help improve the development of Fangshan District and nearby areas.
The Universal Beijing Resort, currently the largest in the world, has already hosted more than 2.1 million passenger trips, according to the Beijing Youth Daily.
Despite the impact of the COVID-19 pandemic, the Universal theme park has been instrumental in developing related industries in the Tongzhou district, where the resort is located.
"The turnover of enterprises above the designated size in the culture, sports and entertainment industries has grown by 367.4% annually in Tongzhou District, and that of accommodation has registered a growth of 122.6%," Yang Lei, deputy district chief of Tongzhou, said at a press conference on Feb. 8.
The locations of the Universal Beijing Resort and the future Legoland Park show that Beijing's local government has made great efforts to promote industrial development and upgrading of its outskirts, said Sun Xiaorong, a member of the Reform Advisory Committee. and the development of Chinese tourism, in an interview with China News Weekly.
Sun said he believed many similar projects would be launched in suburban areas and would help bridge the gap between urban and rural areas around the nation's capital.
Theme parks of varying sizes have exploded in Chinese cities in recent years. As many as 339 theme parks were operating across China by the end of 2019, according to the 2021 Chinese Theme Park Competitiveness Assessment Report. Among them, a quarter are in the red, 22% barely reach the break-even point and 53% are profitable.
Faced with a global drop in visitors of between 50% and 90% in theme landscape sites, China bucked the downward trend with steady recovery and vigorous development, according to the TEA/AECOM 2020 Thematic Index and the museum index.
As many as 20 new parks have been launched since the start of the pandemic, showing that the country has firmly remained a key destination for new developments, according to the Global Attractions Attendance Report.
Regarding the rapid development of theme parks across China, Sun said fierce market competition is inevitable. "It's not a zero-sum game, but a positive-sum competition."
The Legoland Beijing Resort will reflect Merlin Entertainments ambition to grow into the world's second largest economy.
Nick Varney, CEO of Merlin Entertainments, said in a 2018 media interview that the group plans to build 20 Legoland complexes around the world in the future, including five in China.
Construction of Lego Sichuan Resort, China's first Legoland resort, began in Meishan in June 2020. It covers an area of ​​approximately 570,000 square meters. Its opening to the public is scheduled for 2023.
In August 2021, another Legoland project began construction in Shenzhen, Guangdong province. Covering approximately 580,000 square meters, it represents an investment of over $1.08 billion. The park is due to open in 2024.
Construction of the Legoland Shanghai Resort began in November 2021 in the city's Jinshan district. The $550 million development is expected to open in 2024.
Du Juan in Beijing contributed to this story.