At Westerly Library & Wilcox Park: It's summer. Range readings are here. | Guest columns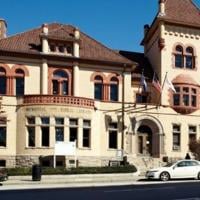 It's beach reading season, but the meaning of "beach reading" differs depending on who you ask. Typically, when we think of beach reads, we imagine easy-to-read novels, "lit" books, or – quite literally – books that are set in a tropical location. If you prefer to lie on the sand with the latest thriller from Lisa Jewell or Lee Child, go for it! Personally, my ideal beach read is something feel-good and a bit quirky. Whatever your personal tastes, we certainly have something in the library for you.
Since fun and flirtatious novels are popular summer book choices, there are plenty of new ones hitting the shelves now. "Dream On" is an Angie Hockman romantic comedy about a woman who wakes up from a coma filled with memories that include her boyfriend, Devin… who everyone in her life says doesn't exist. Things get stranger when she meets the real Devin at a flower shop a year later. A weird premise, sure, but it's deeper than you first imagine, and the characters are endearing. If you like your fiction served up with just a side of romance, try "Flying Solo" by Linda Holmes (author of the hugely popular "Evvie Drake Starts Over"), a tale of self-discovery, family secrets and – yes – loving news. Viola Shipman's "The Edge of Summer" is a similar, but much more moving story about a woman who begins to uncover family secrets after her mother dies. Don't worry, you will shed as many tears of joy as of sadness.
If you just want a comforting read that will make you happy and satisfied, we've got you covered, too. I'm currently reading "Iona Iverson's Rules of Commuting" by Clare Pooley, an original book about an eccentric group of people who take the train together and become unwitting friends. The main character, Iona, is a hoot, and it hooked me from the first page. Annabel Monaghan's "Nora Goes Off Script" follows rising screenwriter, Nora, whose new script based on her recent failed marriage becomes a Hollywood hit. It is planned to film on location, at her home, with a top actor playing her ex-husband. Sure, sparks fly and drama ensues, but in a nice way.
If you take your e-reader to the beach, the library can always go with you! Download the Libby and Hoopla apps to access hundreds of thousands of eBooks, eAudiobooks, comics, and even movies. Hoopla is great because you get instant access to titles – no holding back, no waiting! They've recently added a great collection of beach reads, including Schitt's Creek-inspired "It Happened One Summer" by Tessa Bailey, the entire series of Bridgerton novels by Julia Quinn (after which you can binge-watch the Netflix series), and books by best-selling novelist Jasmine Guillory. If you like thrillers more than romantic comedies, they also have popular titles like "The Woman in the Library" by Sulari Gentill. Good reading!
Most requested books
1. "The Nantucket Hotel" by Elin Hilderbrand
2. "It's Ending With Us" by Colleen Hoover
3. "The Summer Place" by Jennifer Weiner
4. "Workout Partners" by John Grisham
5. "The House Across the Lake" by Riley Sager
6. "The It Girl" by Ruth Ware
7. "Man 6:20" by David Baldacci
8. "The Lost Summers of Newport" by Beatriz Williams
9. "Fly Girl" by Ann Hood
10. "Book Lovers" by Emily Henry
Most requested DVDs
1. "The Lost City"
2. "Downton Abbey: A New Era"
3. "The Beatles: Come Back"
4. "Everything everywhere at the same time"
5. "Father Stu"
6. "The Nordic"
7. "The Villains"
8. "The worst person in the world"
9. "CODA"
10. "Ambulance"
This week
MONDAY — 10am-10:30am, Toddler Paint Party – Registration via our website is required; 10:30-11:30 a.m., Zumba in the Park – A free Zumba class with Yvonne Brown and Tina Pagliusi; 11am-12pm, Paint Party – Best for kids ages 6-12, and registration is required; 6-6:30 p.m., Family Fun Movement – ​​Join us at Wilcox Park by the fountain for fitness and family fun!
TUESDAY — 9am-10am, Yoga in the Park with Chelsea Hauck – Join us behind the pond in Wilcox Park for yoga practice at all levels; 10 a.m. to 11 a.m., Parents as teachers – Activities, interactive songs, games and much more! Contact Maria Camarena at [email protected]; 11am-11.45am, Little voices in the park – Genviéve Spitale from The Chorus of Westerly offers an interactive musical performance; 2-3:30 p.m., Virtual Tech Social – We meet on Zoom to answer your technical questions. Prior registration is required; 4-5pm, Weekly Summer Dungeons & Dragons – A teen-led Dungeons & Dragons campaign! Registration is mandatory; 5:30-7:30 p.m., Club Tricot et Crochet – The group meets on the 2nd floor of the library.
WEDNESDAY — 9:30am-10:00am, Essentrics Stretch in the Park – Bring mat, towel and water; 10:00 a.m. to 10:30 a.m., Summer Family Storytime – A family storytime, for children from birth to 11 years old when accompanied by a caregiver; 2-3:30 p.m., Animation Nation – Our exciting LEGO stop-motion movie making program runs weekly all summer long; 2-3:30pm, Film Club – We meet in person OR online to discuss this month's movies; 5:30-6:30 p.m., Cookbook Club – This month we cook and share recipes from "Gather and Graze" by Stephanie Izard. Registration is mandatory.
THURSDAY — 9 a.m. to 7:30 p.m., adult crafts to take away | Sun Prints – We're giving out a new craft kit every Thursday in July. Registration is mandatory; 10am-1pm, Friends of the Library pop-up book sale – Every Thursday in the summer, the Friends of the Library organize a pop-up book sale on the library esplanade; 11 a.m. to 11:45 a.m., Little voices in the park – An interactive musical performance in the park; 4:00 to 4:45 p.m., pre-Thursday – This program is for ages 9 to 12; 5:30-6:30 PM, Zumba in the Park – Enjoy a free Zumba class at Wilcox Park; 5:30-7:30 p.m., Chess Club – Players of all skill levels are welcome.
FRIDAY — 9am-10am, Yoga in the Park with Michael Dotolo – Join us at the back of the pond; Colonial Theater in the Park | Waiting for Godot – Tickets are free upon registration! This performance runs until Sunday, and again next week.
SATURDAY — 9am-12pm, URI Master Gardener Kiosk – Get research-based answers to all your gardening questions; 10am-11.30am, walking tour of Wilcox Park | Native flowers and trees – Meet on the Esplanade at the side entrance of the library; 10:30-11:30 a.m., Zumba in the Park – Enjoy a free Zumba class at Wilcox Park; 2-3pm, Rhode Island Black Storytellers – Campfire themed stories with a craft to do!
Cassie Skobrak is a reference librarian at Westerly Library & Wilcox Park.